Skip to Content
Enjoy a Pest-Free Labor Day in Your Backyard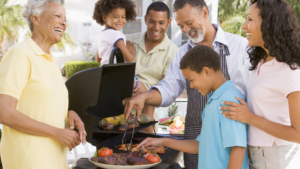 Are you getting ready to celebrate Labor Day with your loved ones? It's the perfect opportunity to enjoy the last of the warm weather in your backyard. However, pesky mosquitoes can quickly ruin the fun. But don't worry. We've got your back! As your trusted pest control experts in Wentzville, O'Fallon, Lake St. Louis, St. Charles, and Troy, MO, Vogelsang Pest Management is here to ensure your Labor Day celebration is enjoyable and free from unwanted pests.
The Buzzkill of Mosquitoes
If you're planning an outdoor gathering, pesky mosquitoes can really put a damper on things. Not only do their bites itch like crazy, but they can also carry diseases. In the Midwest, mosquito activity tends to worsen during warmer months, but don't fret! We've got some great mosquito control solutions that are safe and effective, and we'll customize them to fit your backyard perfectly.
Customized Mosquito Control
We recognize that every property is distinct, and cookie-cutter approaches won't suffice for everyone. Therefore, our team of professionals meticulously examines your backyard to pinpoint any potential mosquito breeding grounds. We customize a mosquito control strategy that suits your specific needs, including eliminating standing water and using targeted treatments to ensure these disease-carrying insects don't ruin outdoor gatherings.
Safe and Environmentally-Friendly Solutions
We want to let you know that we've got your back when it comes to getting rid of pesky mosquitoes. We take your safety (and that of your furry friends) seriously, so we use eco-friendly methods to minimize any harm to non-target organisms and the environment. We'll take care of those mosquitoes without causing unnecessary damage.
Enjoy Your Labor Day to the Fullest
Thanks to our comprehensive mosquito control services, you can enjoy your Labor Day gathering without worrying about mosquito bites or applying sticky repellents. Create lasting memories with your loved ones and relish the freedom of your backyard space.
Extending Your Pest-Free Backyard Bliss
Our dedication to providing long-lasting results means you can continue to enjoy your mosquito-free backyard long after Labor Day. Our recurring pest control programs ensure consistent protection throughout the year, allowing you to savor outdoor activities without the nuisance of mosquitoes.
Trusted Experts in the Midwest
With years of experience serving Wentzville, O'Fallon, Lake St. Louis, St. Charles, and Troy, MO, Vogelsang Pest Management is the local pest control company you can trust. Our team of professionals understands the unique pest challenges faced in the Midwest, and we have the expertise to address them effectively.
This Labor Day, let Vogelsang Pest Management be your partner in creating a pest-free backyard oasis for you and your loved ones. Enjoy the warmth of summer and celebrate the holiday without the intrusion of pesky mosquitoes. We are dedicated to protecting your home or office.  Call us today for a free inspection!
PS – Here are some great recipes for your Labor Day BBQ.