Skip to Content
January Pest of the Month
Brown Recluse Spiders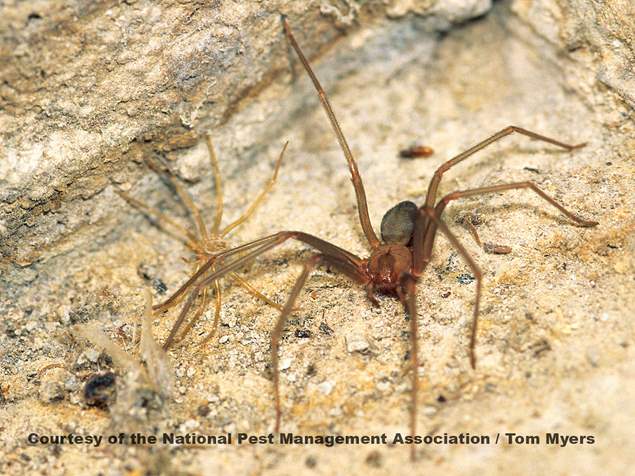 Color
Light to dark brown, with characteristic dark brown violin marking on back
Legs
8
Shape
Round
Size
¼ – ½ inch long
Antennae
No
Region
Found in the south central Midwest from Ohio to Nebraska and south through Texas to Georgia
Food Source
They eat other small bugs.
Web
Their webs are irregular. They use their web as a retreat, not for catching food.
Habitat
Typically, they live outdoors under rocks woodpiles. Indoors, they are found in areas where they can be undisturbed like inside boxes or rarely used closes/shoes. They can also be found under furniture and in window crevices. They love closets, attics, crawl spaces and basements.
Threats
Brown Recluse Spiders only bite when they are defending themselves. Both male and female spiders inject venom when they bite. The biggest problem to humans is their bite is usually not felt. A stinging sensation followed by intense pain as long as six to eight hours later is the tell-tale sign you've been bitten. At the bite location, a small blister usually appears and can turn into an open sore as the venom spreads. Nausea, severe itching, fever, and muscle pain may also be symptoms.
To reduce the potential of being bitten by a brown recluse, contact Vogelsang Pest Management by calling 314-601-1789.
Sources: