Skip to Content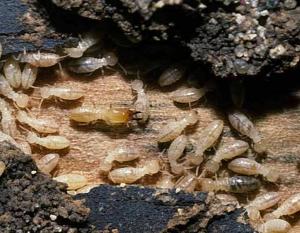 With spring comes warmer weather, blooming flowers, and longer days. Unfortunately, spring also brings bugs! One of those insects is the termite. Because a termite problem cannot be fixed with Do-It-Yourself methods, it is much easier and more cost-effective to prevent them from entering your home. In addition to having a professional inspection done annually, here are some tips to keep your home termite-free.
Reduce moisture in and around your home
Divert water from the house through gutters, downspouts, etc
Repair/replace leaking exterior AC units, water pipes, and faucets
Repair/replace fascia, soffits, and rotting roof shingles
Replace weather stripping and loose mortar around the foundation and windows
Keep an 18 inch gap between soil and wood portions of your home
Keep firewood at least 20 feet away
You should routinely inspect the foundation of your home for signs of mud tubes (used by termites to travel), uneven or bubbling paint, and wood that sounds hollow when tapped. Homeowners should monitor exterior locations made of wood, including window and door frames for any noticeable changes.
If you suspect that your home has a termite infestation, please call us at 314-601-1789.
Photo from The Missouri Department of Conservation